Date: 11/08/2022 Author: Kathryn Graham Headlines | Previous | Next
Brain Drain, Brexit and Britain's 'battle' to Commercialise Space.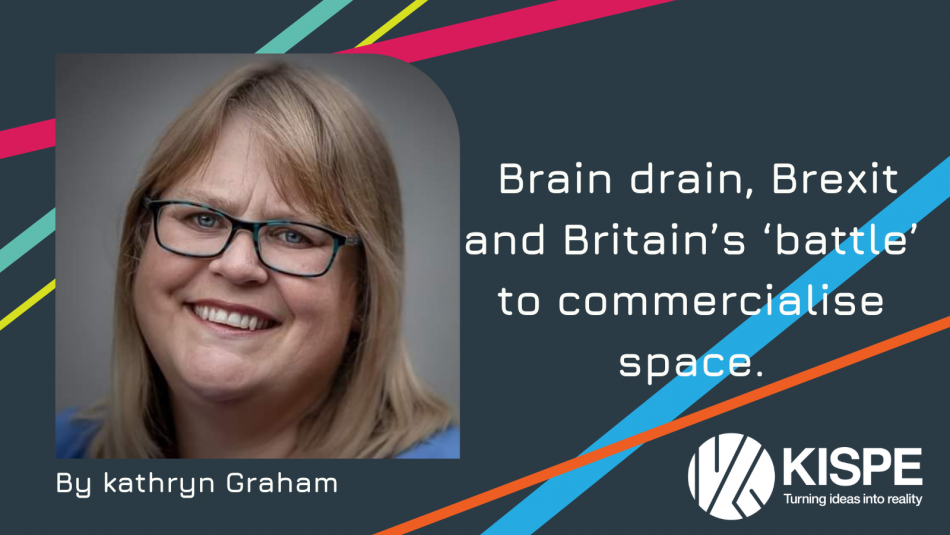 A recent article suggested the UK's Space industry is facing an uphill battle against the international 'giants'.
Citing Brexit, our industry's lack of experience and an under-defined Unique Selling Point as the causes. These are the genuine problems we're facing, it's true. But what if they don't need to be? What if we could leverage them instead? If we could exploit these limitations to reinforce our competitive edge?
Let's talk USPs.
I don't think we're hoping "to forge a new space industry" as the article suggests – we already are! And we've been doing it for over 30 years, as leaders in the small satellite development field.
Our next step is to take our learnings from small satellite development and apply them to larger builds. Offer them at lower price points, with increased efficiency and faster launch capabilities.
The problem is, we're not actually building enough satellites to make our launch market attractive, which is why...
Positioning is key.
We've got our USP, we just need others to see us as commercially attractive – with a limited number of launch suppliers, cost plays a huge factor in the launch market. The UK's strategy involves providing additional launch capacity for smaller satellites, giving us another string to our bow, if you will.
Communicate (and deliver) this and we'll be shooting clean in no time. – Let's just get some robust processes in place.
Brexit has catalysed the industry's brain drain phenomenon, which has made talent recruitment and retention rather difficult. That's why we must focus our efforts on education and communication:
 

Engaging young people in STEM is vital. They represent our future workforce, so we need to start educating and getting them curious!

 

Alongside that we need to show parents and education providers that there's a thriving job market awaiting the younger population.

 

Accessibility is important. We're already removing some barriers to entry via apprenticeships, with level 4 space technician apprenticeships. Level 6 space engineer apprenticeships are on the way.

 

We need to communicate and work with education providers to develop the skills required of our potential employees – providing theory and practice are integral to that.
The UK space community reaches far and wide.
Amongst the UK's facilities is the Harwell science park in Didcot, which the article suggests is key to our industry's development. Yes, Harwell provides fantastic facilities for many companies and exciting opportunities for start-ups, but we also have some incredible sites in the South East, Cornwall, and Scotland amongst others.
Let's encourage Space hubs around the country to capitalise on local talent. Re-location typically goes hand in hand when starting a new role, but it's not a valid option for many. The growing range of industry specific apprenticeships across the UK recognises and caters to this.
Recruitment and retention will be a lot easier and more effective if we can expand on these solutions across relevant regions.
Policy gives us a greater competitive edge.
We must establish slick and efficient regulatory policies which make our launch capabilities more appealing to international players. It is important that the UK leads the way in the safe sustainable use of space, and we need to ensure we deliver regulation to do this in a streamlined efficient way.
It's all about getting the offer right.
Cost and efficiency is the name of the game. We need to focus on cost by offering competitive price points and lower shipping costs (improving national education also lowers our own costs). And we must also focus on efficiency by reducing delays, providing comprehensive launch scheduling, and implementing streamlined licensing.
We already have our competitive edge on the international stage, but we need to position ourselves in the right way: we need to think forward.