Date: 06/10/2022 Author: KISPE Headlines | Previous | Next
Introducing Paul Madle - KISPE Embedded Software Engineer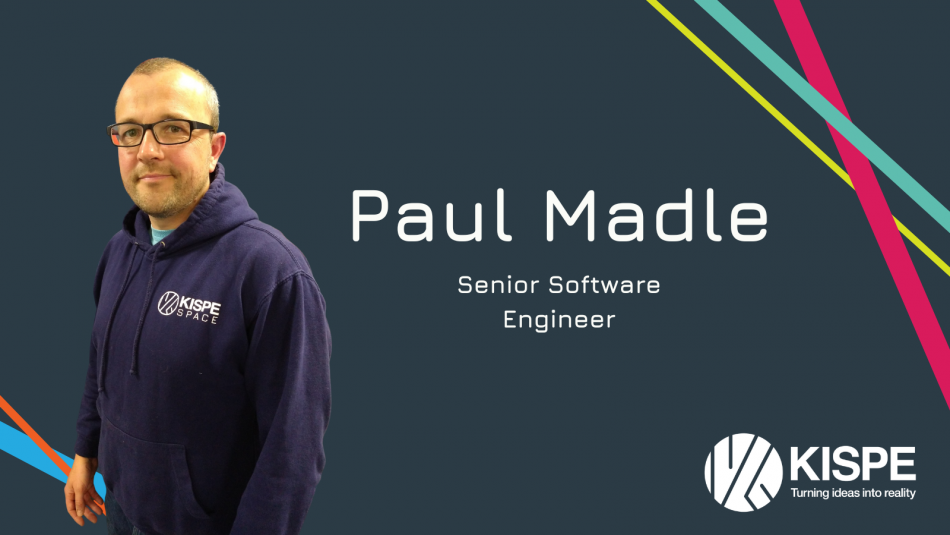 What does an Embedded Software Engineer do in Space?
We're recruiting an Embedded Software Engineer - this is an exciting and dynamic role and to share more about what embedded software engineering means within the space industry we sat down with our Senior Software Engineer, Paul Madle.
Read in to find out more from Paul about his background, advice for anyone from an embedded software background looking to get into space and how in this role, you'll be helping to shape the future of small satellite software.
Can you give me a bit about your background and how you came to work in the space industry?
I did a degree in Electronics Engineering. From there, I started in a consultancy business that was involved in the space industry and then moved into a satellite manufacturing company.
I began working on developing on board software and found the space industry to be a lot of fun. The exciting thing for me is that you are focused on developing and working on bespoke bits of kit.
This is a relatively new sector, especially when it comes to small satellites, so you are building things from the ground up - not taking someone else's code - you are able to write your own in a bespoke way.
After that I worked as a contractor for the aerospace industry, focusing on landing gear and working on critical systems within commercial planes.
Aerospace is such a safety critical industry and I have come back into the space industry with a new knowledge and appreciation of critically functioning code.
Can you tell me how embedded software engineering is involved in the Kernow Sat project?
The Kernow Sat project will be a key part of this role. We are working to deliver a first-of-its-kind community satellite that can monitor marine health specific to the Cornish coast.
It's very exciting that you will be writing the software that will go in space - the software that's running on the main onboard computer of the spacecraft - which is critical to the success of the mission.
You'll also be involved in integrating and testing the satellite - ensuring the software works on the ground. You'll be working within our software engineering team and interfacing with our systems and electronics engineering and mechanical engineering team. It's definitely a multidisciplinary project!
What background do you think this candidate could come from?
We know that embedded software engineers come from a vast range of experience and background. You could be working in automotive, aerospace, electronic appliances - we just need the knowledge of embedded design.
Why do you think Space is a good industry for Embedded Software Engineers to be looking at?
Part of KISPE's mission is developing code that will make space more affordable and accessible long term. That's why what we are working on will eventually become open source; accelerating innovation within the industry.
It's a very exciting time to be part of developing the next gen microsatellite/ open source satellite. And through this collaborative approach, the code base we are writing will influence the space industry at large.
Also, there isn't a standard satellite software design yet, so you will be part of the standardisation - we're building everything from the ground up.
What advice would you give to someone thinking of applying?
Don't be spaced out by the prospect of space - don't think that it's untouchable - space experience is secondary to core embedded software skills.
It's World Space Week and the theme is Sustainability and Space - how do you feel Embedded Software Engineering can influence Sustainability in Space ?
We're developing something that will become a standardised platform and that will focus on sustainability as a standard; helping with d-orbiting policies etc. If we have a standard software and a standard satellite that meets those requirements, this will help long term goals of sustainability.
The open source element has a big role to play here too as we will be able to pass this knowledge on to the community, saving resources and accelerating the rate that the industry can meet its sustainability goals.
____________________________
If you want to learn more about the Embedded Software Engineer role, or other opportunities, get in touch today.