Date: 04/09/2023 Author: Headlines | Previous | Next
KISPE Industrial Placement: Meet Olly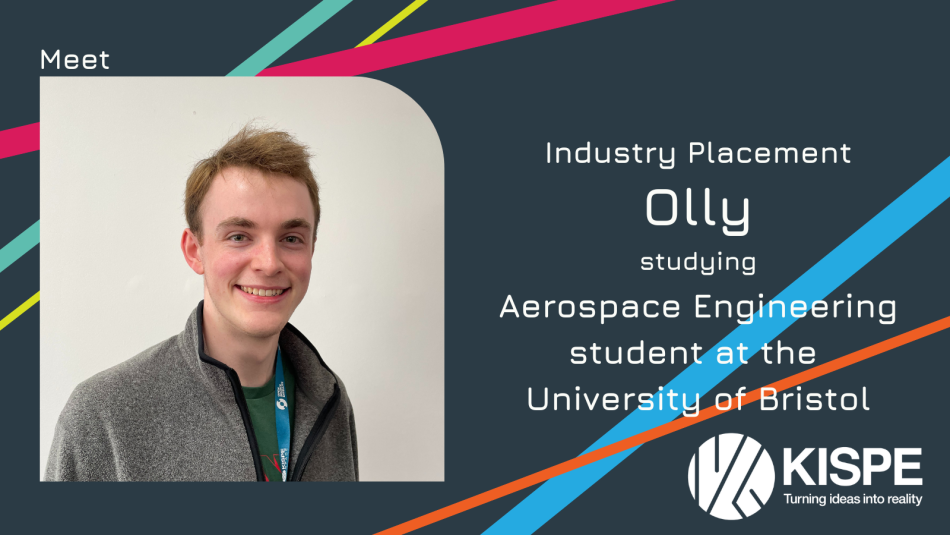 The Engineering Development Trust (EDT) Year in Industry Placements programme offers school leavers and undergraduates the opportunity to gain professional development by working in industry. Placements facilitate the collaboration between enterprises operating in the space sector and motivated students, aiming to contribute to the sustained growth of their enterprises.

At the core of the program lies the recognition that the next generation of professionals will play a vital role in shaping the future of the space industry.
Let's take a moment to acquaint ourselves with Olly, one of the aspiring aerospace engineers who holds the key to the next steps of space exploration and innovation. Read on to discover who he is, and his hopes and expectations for the future of the industry.
---
Introducing Olly:
Tell us your name and what you are studying:
Hi I'm Olly and I'm currently studying Aerospace Engineering at Bristol Uni.
Why did you apply for a Year-in-Industry at KISPE?
I applied for a Year-in-Industry at KISPE because I've always had an interest in space, and really enjoyed studying Space Systems at university. I was aware of KISPE's work with Spaceport Cornwall so the prospect of working for them was particularly exciting.
What is your ideal career?
I'm still figuring out where exactly my skills lie, and which particular jobs I'd be most suited to, but I'd definitely like to work within the Space Industry! Luckily, at KISPE, I've got the opportunity to work on a broad range of projects, so I'm sure by the end of the year I'll have a much better idea of what I'd like to do going forwards.
What excites you about the space industry/Why did you get into this industry?
To me, the most exciting thing about the space industry is the wide variety of applications it has to our everyday lives – most of which people take for granted!
What are you most looking forward to in the next few years of space tech?
Though it's a fairly obvious answer, I'm really excited by what SpaceX are doing with the Starship, and the potential it has to send people both to the moon and Mars. Also the reusability aspect is great for making space travel more sustainable.
What is the biggest change you'd like to see in the space industry?
One of the biggest things I'd like to see change is that access to space should be improved, so that it's not just reserved for the super-rich. That's one of the things I find most exciting about the work that KISPE's doing; it's actually making an effort to make space accessible.
If you had one piece of advice for someone looking to break into the space industry, what would it be?
Just be enthusiastic and ready to learn!
Would you like to tell us anything else? What are your hobbies? What rocks your boat?
I really enjoy playing ultimate frisbee, although unfortunately I haven't been able to find a team here in Farnborough! Outside of that, I enjoy listening to music, playing bass guitar and watching movies.
---
We are delighted to have Ollie on the team and are excited to use his talent to advance the world of space innovation. His enthusiasm and passion for improving the accessibility of space make him an asset to the team.
Interested in a Year in Industry placement?
Keep an eye on our careers page!