Date: 08/09/2023 Author: Headlines | Previous | Next
Meet the KISPE SPINterns - Introducing Jake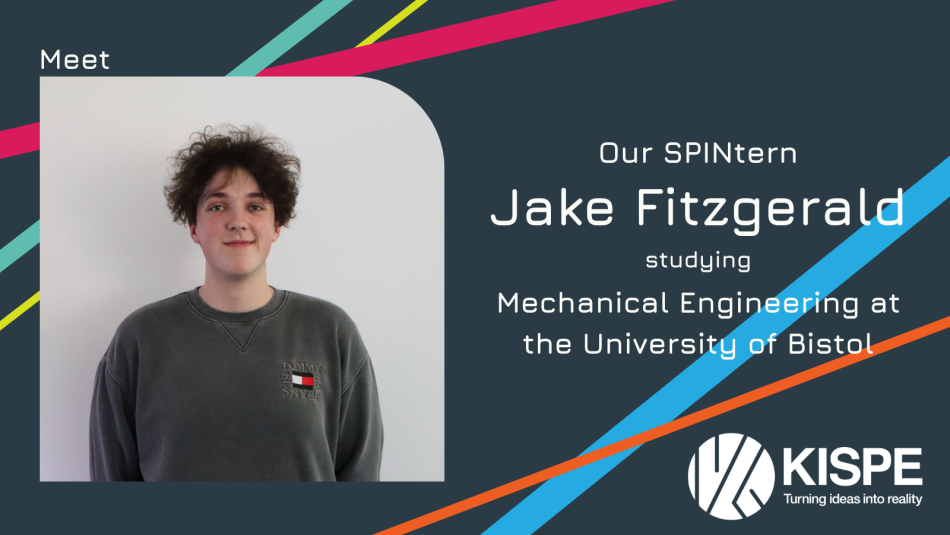 The Space Placements in INdustry (SPIN) scheme provides placement opportunities for individuals in study who are considering employment in the space sector. SPINternships connect organisations working in the space sector with talented and enthusiastic students to ensure the sustainable future of the space industry.
The upcoming generation is the inheritors of space innovation and sustainability. Being able to provide this opportunity was a pleasure, and we hope to see our SPINterns making history in their bright futures.
We sat down with Jake, an aspiring engineer in the space industry, to discuss what he loves about the industry, and his hopes for the future of space innovation.
---

Introducing Jake Fitzgerald:
Tell us your name and what you are studying:
My name is Jake, and I will be going into my 4th year of studying mechanical engineering at the University of Bristol next year.
Why did you apply to be a Spintern at KISPE?
The project description looked like a great way to gain a broad range of knowledge about the space industry while working on something that can have a real impact. Additionally, the proximity and exposure to vastly experienced engineers as a result of the company size seemed like an opportunity not to be missed.
What is your ideal career?
Something that would allow me to push/develop technology for the benefit of the environment. Whether that takes me towards the space industry, efficient engines, marine engineering, composite technology or any of the other many options for industries that can have a positive impact, I haven't yet decided.
What excites you about the space industry/Why did you get into this industry?
The extent to which technology in space can support and have a markable effect on almost every aspect of day-to-day life. It's an industry that is going to have a massive impact on the direction of our species in the coming decades.
What are you most looking forward to in the next few years of space tech?
I'm really looking forward to seeing the developments in our space debris management capabilities coming from organisations such as ClearSpace as well as the emergence of satellite servicing missions to refuel and extend the lifespan of existing satellites. I think the management of debris and dead satellites will be crucial to the industry's future and it's exciting to see UK-based companies being a driving force in that sector.
What is the biggest change you'd like to see in the space industry?
With the volume of commercial use of space exploding in recent years I think it's critically important that future sustainability is emphasised, clearly planned out and strictly legislated on a globally collaborative level. We all share space and use it for so many positive applications, with careful planning and responsible actions this can continue for the foreseeable future.
If you had one piece of advice for someone looking to break into the space industry, what would it be?
There's more depth to the industry than I could have ever imagined and there's something for everyone, you don't just have to be an aerospace student to find something that'll intrigue you and capture your attention!
Would you like to tell us anything else? What are your hobbies? What rocks your boat?
I worked as a chef throughout university and absolutely love cooking, my favourite thing to make at the moment is tom yum Thai soup. I also love surfing and am hoping to spend my free time in the upcoming university year in the engineering workshops building parts and fitting out a tiny campervan so I can go to Cornwall and Devon more often!
---
It was a delight to be able to introduce him to the industry, and we would love to see him make his way back to us in the future.
Interested in becoming a SPINtern?
To Learn more about the Space in INdustry scheme, visit: https://sa.catapult.org.uk/work-with-us/space-placements-industry-spin/
We would love to see you next year!