Date: 14/08/2022 Author: KISPE Headlines | Previous | Next
Meet the KISPE Spinterns - Introducing Lewis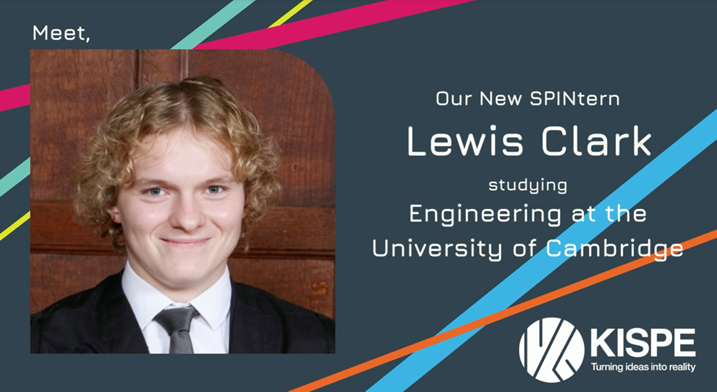 The Space Placements in INdustry (SPIN) scheme provides placement opportunities for individuals in study who are considering employment in the space sector. SPINternships connect organisations working within the space sector with talented and enthusiastic students to ensure the future success of their businesses.
Our SPINterns are the future of the space sector! Let's get to know them a little better.
We asked current KISPE SPINtern, Lewis, about his internship and his hopes for the future. Here's what he had to say...
Introducing Lewis Clark:
Tell us your name and what you are studying:
My name is Lewis and I am currently in my first year of studying Engineering at the University of Cambridge.
Why did you apply to be a Spintern with John and the team?
The project description looked really interesting and a great opportunity to gain valuable experience.
What do you want to be when you grow up? (Not that we ever really grow up!)
Any type of engineer. I'm keeping my options broad at the moment.
What excites you about the space industry?
I'm really excited about the fact that the space sector is going to be responsible for our next step as a species.
What are you most looking forward to in the next decade of space?
The emergence of more sustainable space practices, such as better materials, solar production, more reusable launch vehicles, and refurbishable and relaunchable satellites, the likes of which Space Forge are working on.
Why did you get into this industry?
Space is just really cool in my opinion. I've been fascinated by space since I was a young child. I've read many Sci-Fi books, and getting closer in real life to the possibilities in those books is what drives me.
What is the biggest change you'd like to see in Space?
Legislative changes. Everything from companies taking responsibility for space debris to clearer guidelines relating to asteroid mining.
If you had one piece of advice for someone looking to break into the space industry, what would it be?
Be really excited about space!
Interested in becoming or hosting a SPINtern?
To learn more about the Space Placements in INdustry scheme, visit: https://sa.catapult.org.uk/work-with-us/space-placements-industry-spin/