Date: 12/08/2022 Author: KISPE Headlines | Previous | Next
Meet the KISPE SPINterns - Introducing Mae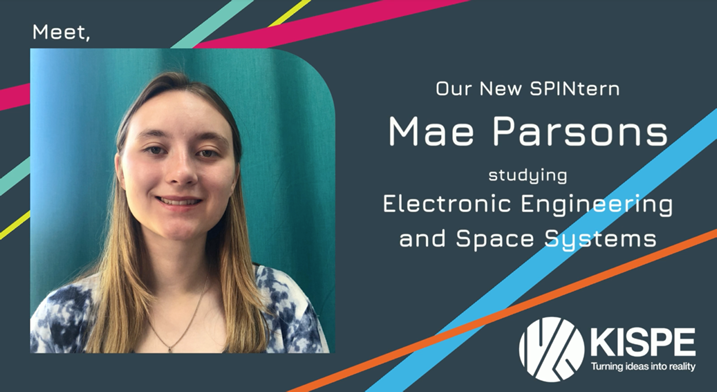 The Space Placements in INdustry (SPIN) scheme provides placement opportunities for individuals in study who are considering employment in the space sector. SPINternships connect organisations working within the space sector with talented and enthusiastic students to ensure the future success of their businesses.
Our SPINterns are the future of the space sector! Let's get to know them a little better.
We asked current KISPE SPINtern, Mae, about her internship and her hopes for the future of the industry. Here's what she had to say...
Introducing Mae:
Tell us your name and what you are studying:
Hi, my name's Mae Parsons and I am going into my second year of studying Electronic Engineering with Space Systems.
Why did you apply to be a Spintern with John and the team?
The internship is a great opportunity for me to gain insight into the space industry. I'm excited to develop my understanding of satellite systems and contribute towards making space more accessible.
What do you want to be when you grow up?
I'd love to work as an engineer in the space industry when I'm older.
What excites you about the space industry/Why did you get into this industry?
There are so many ways that space technology can be used to improve our lives: from exploring the universe, which can tackle fundamental questions on the origins of life, to observing our own planet, helping us to find solutions to problems on Earth.
Utilising space technologies can positively impact disaster response, food production, climate change and increasing connectivity to remote areas of the world.
What are you most looking forward to in the next decade of space?
I'm looking forward to the research resulting from the Solar Orbiter and Parker Solar Probe missions, which aim to provide more information on the causes of space weather events.
I've been fascinated by space weather since learning about the huge impact it can have for our technologies here on Earth. I'm excited to learn of any advances scientists will make on the understanding of the Sun and how space weather events are caused.
What is the biggest change you'd like to see in Space?
I think it's really important to have an increased emphasis on the sustainable use of space. More projects dealing with the issue of space debris can ensure the many positive applications of space can continue to be used by generations to come. 
Would you like to tell us anything else? What are your hobbies? What rocks your boat?
I enjoy photography as a hobby - my favourite subjects are my two very cute pet rabbits! I play the violin and have enjoyed performing with the university string orchestra. To relax in my spare time, I also like to bake and knit.
Interested in becoming or hosting a SPINtern?
To learn more about the Space Placements in INdustry scheme, visit: https://sa.catapult.org.uk/work-with-us/space-placements-industry-spin/