Date: 08/09/2023 Author: Headlines | Previous | Next
Meet the KISPE SPINterns - Introducing Rufus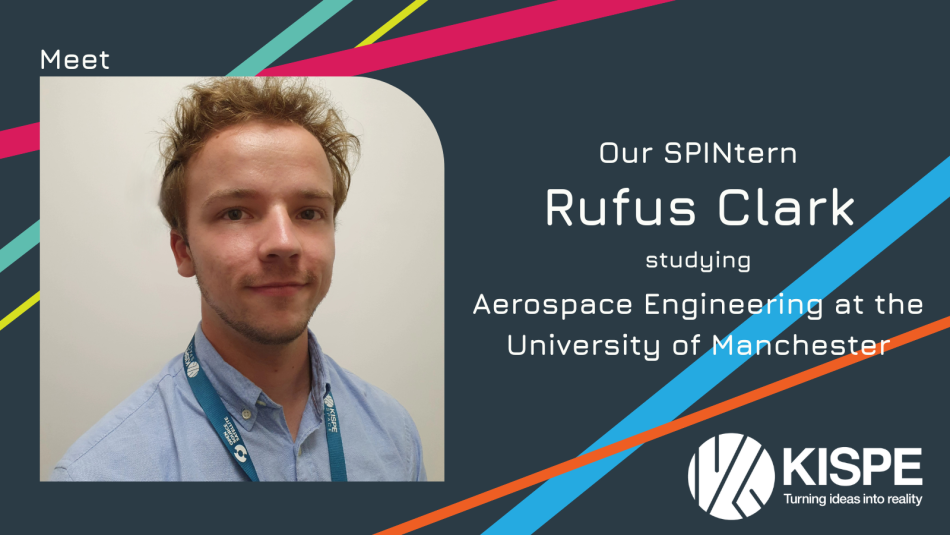 The Space Placements in INdustry (SPIN) scheme provides placement opportunities for individuals in study who are considering employment in the space sector. SPINternships connect organisations working within the space sector with talented and enthusiastic students to ensure the sustainable future of the space industry.
The next generation of space professionals will be at the forefront of space innovation, and we are delighted to be able to provide this opportunity to the bright minds of the future.
We sat down with one of our SPINterns, Rufus, to discuss his expectations of working in the ever evolving space industry; read on to find out more about what excites him about the industry and where he would love to see space innovation in the future.
---
Introducing Rufus Clark:
Tell us your name and what you are studying:
My name is Rufus, and I am going into my second year of studying Aerospace Engineering with Management at the University of Manchester.
Why did you apply to be a Spintern at KISPE?
I was Interested in working and gaining experience within a small and agile team whilst learning and working within the space domain.
What is your ideal career?
Any career where I can make a positive difference in the world and am solving difficult and exciting challenges.
What excites you about the space industry/Why did you get into this industry?
I'm excited about the growth of the space industry in the UK and innovation to use space to solve new problems.
What are you most looking forward to in the next few years of space tech?
I'm looking forward to the increase in small SAT launch providers increasing affordable access to space and the reduction in space-based communication costs as mega-constellations are deployed.
What is the biggest change you'd like to see in the space industry?
I'd like to see democratisation of the space environment, and more sustainable space practices becoming commonplace particularly regarding space debris.
If you had one piece of advice for someone looking to break into the space industry, what would it be?
Get involved! There are plenty of free events and lectures to learn more about space and lots of organisations offering opportunities. We really are a friendly bunch!
Would you like to tell us anything else? What are your hobbies? What rocks your boat?
In my free time I enjoy being in the great outdoors, whether that being hiking, running, cycling, climbing, or rowing.
---
Rufus embodies everything we would love to see in the future of space innovation, and we are so excited to have him with us.
Interested in becoming a SPINtern?
To Learn more about the Space in INdustry scheme, visit: https://sa.catapult.org.uk/work-with-us/space-placements-industry-spin/